MUSSEL FARM BLACK SEE MUSSELS / ФЕРМА ПО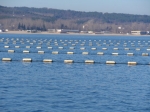 Address:
, 2 Dimitar Tashev Str.
Phone
:
0893 / 316 666
http://www.bgmussels.com/
Mussel farm is located in clean water in the Black Sea, in the region of the Gulf \"Kavaci\" near the town Sozopol.Fermata area is 190 acres. Place to grow black mussels and their acquisition is consistent with previously conducted laboratory hydrobiological and hydrological tests and the relevant hydrological parameters of our Black Sea coast from the relevant authorities. Since ancient times, black mussel is of interest to people because of its high nutritional value. The meat of the black cultured mussels is gentle and very nutritious. Fresh meat of farmed mussel contains about 10% protein, 1% fat and 0.5% carbohydrate, mainly glycogen, minerals (K, R, N, P, etc.), Vitamins A, B1, B2 and With very useful to the human body biologically active substances and trace elements affecting its metabolism.